Title:  Joe Danger Touch
Maker:  Hello Games
System: iOS
Cost: Free for iTunes 5th Anniversary (Normally $2.99)
…Wait, what am I supposed to do again?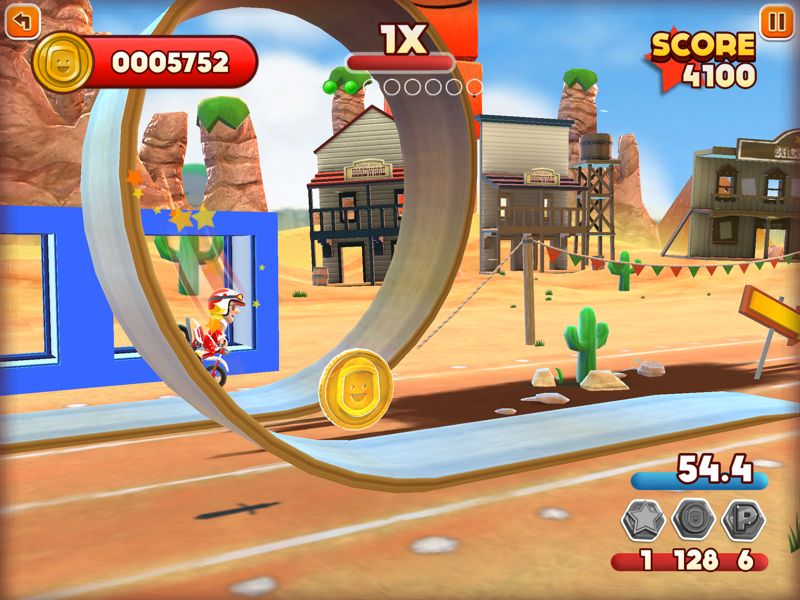 The first thing I notice about Joe Danger is that the levels are perfectly short.  They tapped into the right attention spans for a mobile game.  The second thing I notice is that it's boring.  Not as bad as some other iOS games I've been playing lately, but boring enough I wonder why this ever became a successful series.  Maybe it's big brother counterparts do a better job of keeping you vested.
It's not for lack of content.  For a mobile game this thing is pretty  huge, and trying to get perfect scores will require multiple replays.  But that's the problem, monotonous memorization doesn't make a game fun.  It rarely feels about execution.  Instead, you memorize the levels enough to mechanically swipe your way through.  There's a point system here as well, but it's buried deep.  I do hold out the faint hope that digging deep enough into the point system might make a rewarding experience in and of itself (like good ol' Tony Hawk 2).
The best part of playing Joe Danger is that its micro levels make you wonder why no major publisher has done a Wario Ware ripoff for the iOS.  SquareEnix, you need some cash right?
Rating:  2 Stars (Out of 5)
Memory:  "Jooooe Danger!"