Title:  Dishonored
Maker:  Arkane Studios
Publisher:  Bethesda
System: PS3
Cost: $23 Used
Probably not the most over-rated game ever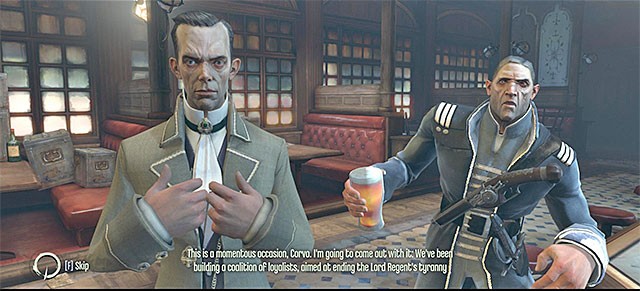 The game tries to pitch that creativity can help you overcome any obstacle, but in reality everything derives from two choices:  You can be an overpowered monster or a tip-toeing nobody.  In one you steamroll every obstacle, in the other you save-game your way through each tiny part because strangling someone is touchy as hell.  This leaves you with a black and white morality system where half of your possible experience becomes unbearable.
You could also make a case for character design being intentionally ugly as an art style (they do ugly things after all).  But the distortion is so far removed from anything human that you feel nothing as you slide your knife from one person to the next.  Even what could be considered "bosses" hardly cause pause before you choose to murder them.  It's a shame because the world aesthetic is beautiful decay, filthy and colorful.  You can sense the prosperity lost.
There are also a few missions that periodically redeem the experience.  The twins and the dinner party stand out.  But then you're back to swinging your sword around like a drunk mad-man, or dumping piles of unconscious guards into the same out of the way room.
When it works, it works beautifully.  It just doesn't work often enough.  If you're going to play it, then don't hold back.  But even then, so what if you can use super powers to murder everyone?  There's dozens of games that let you do that.
Review:  2 Stars (Out of 5)
Memory:  Branding a face