The Limits of Cuteness
Platform: Switch
About a year ago, when I was first dipping my toe into the videogame industry, I read a book called Blood, Sweat and Pixels. There's an entire chapter about Yacht Club, the creators of Shovel Knight. That story (and pretty much every story in the book) was an inspiring little vignette that resonated with a passion I had felt my entire life, and probably pushed me to enter the video game industry.
Specifically, in Yacht Club, I recognized the rag-tag story of a small dedicated team wearing many hats and over-working for several years to crawl out of obscurity. It's the quintessential tech-entrepreneurs journey. And I often wonder now how their story will continue to progress as they grow from 4, to 10, to 25, team-members (and so on). I would love to a read an update. A 'where-are-they-now' type story.
Shovel Knight came out right at the beginning of the retro zeitgeist. And as a result, it seems willing to borrow from several sources (Mega Man, Castlevania, and Link (NES)), rather than the more common present phenomenon of 'Spiritual Successor to Contra' (or Metroid, or Doom, or whatever).
There is so much care shown in the game. The underlying 'pogo' mechanic feels tight. There are small unnecessary animations that provide joy when noticed. The cast of baddies are colorful, and the stages challenging but not unfair. Overall, it feels well tested, which means the team themselves played it over and over.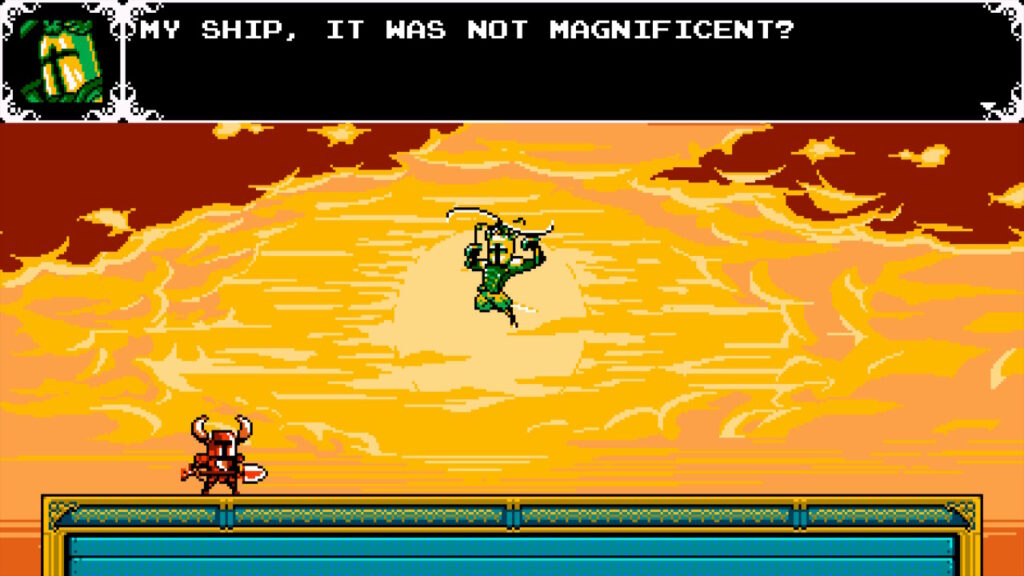 What's strange is that for a game that tries to be charming, it often finds itself stuck between levity and seriousness. Most bosses are humorous, while the overall story is oddly grime. The boss encounters themselves, despite being charming, have almost no real challenge. And the game has this annoying habit of knowing that it's cute, and at times, forcing the player to revel in said 'cuteness' (whether you want to or not).
It's easy to recognize a well-made game, and that's what Shovel Knight is: a very well-made game. But that's different than anticipation. Even a deeply flawed movie, book or game can create anticipation in its consumption. Something you look forward to at the end of the day. But that was absent with Shovel Knight. I was often curious, but never really excited to keep playing.
Review: ★★★
Memory: The cute-then-annoying Troupple King dance