Posted: December 2, 2014
Filed under:
Reviews
| Tags: PS Vita, Review, The Wolf Among Us, Vita
Leave a comment »
Title:  The Wolf Among Us
Maker:   Telltale Games
Publisher: Telltale Games
Platform: PS Vita
Cost: $30
Much More than the Sum of Its Parts
Pop culture references the Walking Dead so incessantly, that I could never play the Telltale versions. They looked fine enough, but I just couldn't bring myself to do it, even though I have the series sitting in Steam from a Humble Bundle. The Wolf Among Us is so enjoyable that it makes me want to go back and give those early games a try.
The story and universe carry the most weight.  The game does a tremendous job of weaving actual fairy tales into scenarios. For example, in a rage, you're given the option to rip off the arm of a character named "Gren". Once you realize it's Grendel, the homage becomes clear.  When TWAU is at its best, it forces your hand in split second decisions. The options provided are often true to the situation, yet uncomfortable. As many games as I've played I would assume I'm desensitized to violence, but it turns out I can't tear someone's head off when given the choice.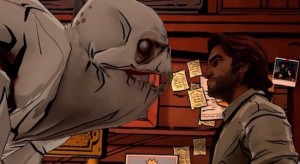 The biggest problem is that it's glitchy as hell. It's not clear if this is all versions, or just the PS Vita one. As testament to this, it's the first game that has actually crashed my Vita and forced a hard reset (the error screen that appears is terrifyingly similar to the blue screen of death). Even when it's running normally there are long loading times, stuttering between scenes, and a few points that require closing and reopening the application.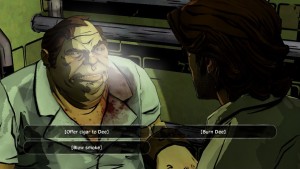 However, it's well worth the bugs and the minor character inconsistencies, to have an experience in Fabletown. No single episode (of the 5) is nearly as powerful as the story taken as a whole.  They're made to be played together.  And it's this consistency and patience that elevates the package to something special.
Review: 5 stars (out of 5)
Memory:  The End
---
Posted: August 31, 2014
Filed under:
Reviews
| Tags: Dragon's Crown, Playstation Vita, Vanillaware, Vita
Leave a comment »
Title:  Dragon's Crown
Maker:   Vanillaware
Publisher: Atlus
Platform: PS Vita
Enjoyable Bursts of  Style Over Substance
There's was a time half a decade ago when Vanillaware was killing it. It had developed Odin Sphere, which was gorgeous, had great reviews, and sold enough to warrant a "Greatest Hits" rerelease.  But the reality was that while Odin Sphere was gorgeous, there wasn't much too it. It plays it's hand early, which makes it a chore to see it through to the end.
Fast forward a few games, 6 years, and we have Dragon's Crown. It's graphics also received a tremendous amount of publicity, but more in the NSFW category. The graphical style itself hasn't changed that much since Odin Sphere, only now every man and woman is hyper sexualized. It's an odd choice that's more awkward than sexual (see below for a few of the less cringe worthy examples):
So what kind of game is Dragon's Crown? Here's the run down:
-Is the story any good? What story?
-Is the battle system improved on Odin Sphere? Memory is fuzzy from that part of my life, but I would say negligible.
-Is the game world more engrossing? Less than their other titles.
-So what does it get right? Three things: On screen mayhem. A quest system that encourages quick play. And gameplay which grows in enjoyment as you learn the system and your character becomes a beast.
In the end, it's a beautiful game of limited scope.  A single town, few NPC characters, limited differences between classes, and a shortage of levels, all betray that it's a minor game. But it's a minor game where you're going to have more fun the final time you play it than the first.
Review: 3 stars (out of 5)
---